Choosing the perfect venue for your wedding day can seem like a difficult choice, especially if you have a certain theme in mind. A rustic wedding is one of our favorites because you have so many options to choose from with your venue, decorations, and more. Whether you're having an indoor or outdoor ceremony, you want something that feels nostalgic with a touch of rustic charm for you and your guests. Here are some rustic wedding venues in Michigan that we're loving right now.
Dhaseleer Events Barn
Originally built in 1874 as a dairy and hay barn, Dhaseleer Events Barn now hosts a variety of events throughout the year including weddings, concerts and dinner parties. Sitting on the northern coast of Michigan, the barn has both indoor and outdoor settings for your ceremony and reception. The venue also features a hardwood dance floor, kitchen prep area, dressing room, and farmyard with scenic views. You'll also have a shuttle service for guests, hay wagon rides, and setup of tables and chairs on your wedding day!
Cherry Barc Farm
With its 12 acres of land, farm animals and rustic atmosphere, Cherry Barc Farm is an award-winning wedding venue. Located in the heart of Michigan, the farm is owned by a husband and wife team who can accommodate up to 175 guests. You and your guests can also enjoy the apple orchard, fire pit area, and animals including goats, ducks, and pigs. Full event planning is available if you need a little extra help with the details along with decor rentals such as tables, chairs, and linens. Cherry Barc Farm has even won Wedding Wire's "Couples' Choice" awards for five consecutive years!
Camp Newaygo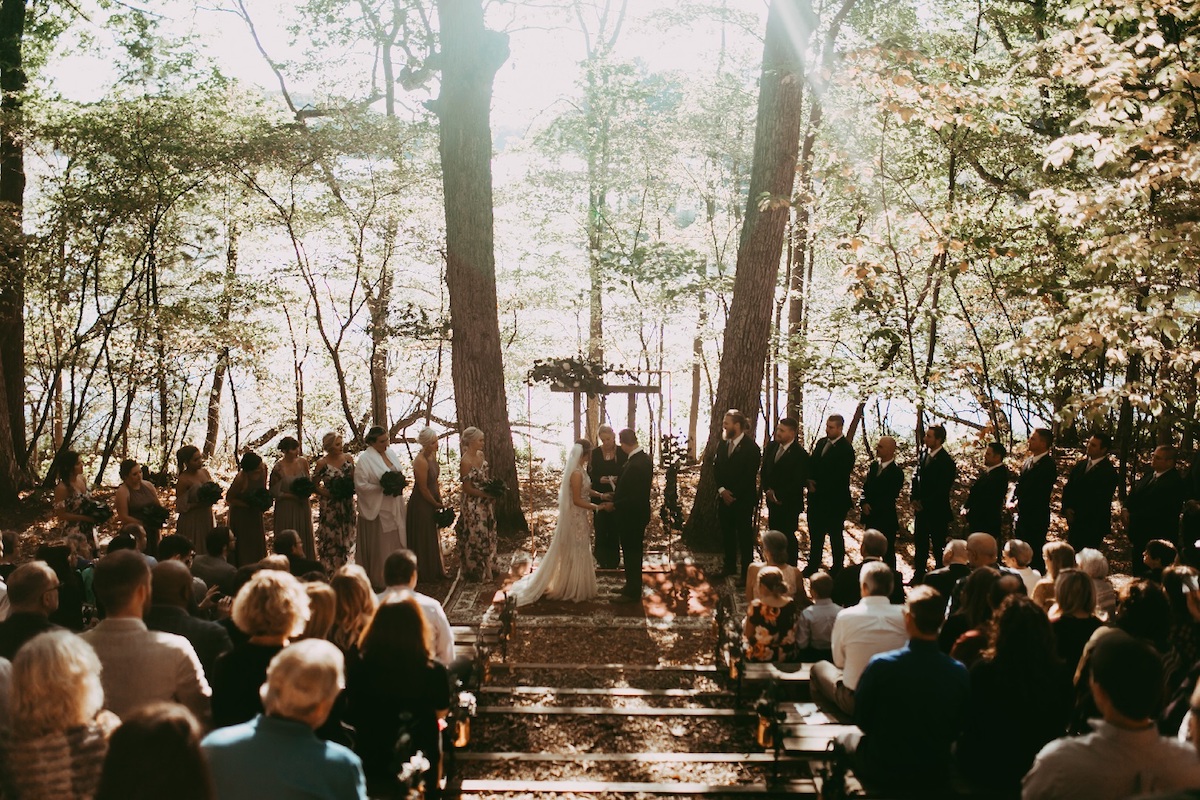 Nestled on Pickerel Lake with more than 100 acres of woods and wetlands, Camp Newaygo will bring back the memories of your childhood camp days. Their wedding ceremony and reception locations include the Walden chapel, Ridge patio, and other areas around the camp with beautiful lake and forest views. For guests coming from far away, there is also onsite lodging available for rent. Camp Newaygo even offers on-site catering with homemade dishes, beverages, and snack options.
Fenton Winery & Brewery
Located in eastern Michigan, Fenton Winery & Brewery can hold up to 280 people along with included catering. Not only will you have access to their winery and brewery for your special day, but you can also choose from either an indoor or outdoor ceremony location. You'll also be paired with an event coordinator from Fenton to help organize your set-up, table selection, food entrees, and more. Other venue details include a dance floor, brick fireplace, and sprawling outdoor gardens.
We hope you have enjoyed these rustic wedding venues in Michigan. Perhaps you will pick one of these for your big day! Still need some help finding the perfect dress for your rustic wedding? Book an appointment with one of our bridal specialists today to get started!