We've seen many new wedding trends emerge as a result of social distancing in recent months, but one of the most popular (and maybe most surprising) is weddings for two, with no guests. Many couples are now ditching the stress of a guest list and seating charts for a simple wedding with only the two of them. Here are some of our favorite wedding ideas with no guests if you're planning on doing the same.
Go With a Simple Dress
Sometimes less is more, even when it comes to your wedding dress. Not only is a simple dress perfect for any time of year, it's also timeless so you can even wear it for other events after your wedding day. Whether you go short or long for your length, you can also customize other details such as your neckline, lace overlay or a classic vail to pair with your dress as well.
Choose Your Venue
Do you and your partner have the travel bug? Having no guests is the perfect excuse for a romantic destination wedding. It also makes the travel plans much easier to coordinate. If you'd rather stay nearby for your wedding, choose a venue that has a special meaning for the both of you such as the place you first met or even your backyard. Something that is comfortable and relaxed will make your day even more memorable – and less stressful!
Hire a Photographer + Videographer
We highly recommend having a photographer and/or videographer at your wedding, even if there will be no guests. Since you and your partner will be the only ones there, that also means there are no guests to get extra photos and candid videos of the two of you throughout the ceremony and reception as well. Hiring a photographer + videographer is a great way to keep memories of your special day for years to come.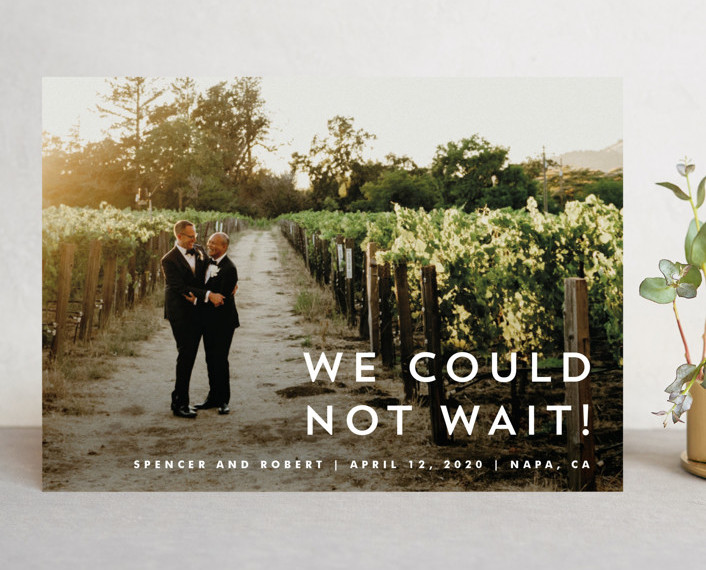 Send Announcements
Instead of sending the traditional engagement announcements and save the date cards, we suggest waiting until after you've married to send your friends and family "we got married" announcements. You can keep it simple by including some of your favorite wedding photos from your photographer, the date and location. Websites such as Minted and Shutterfly have some great options for these if you need help with design.
If you're still searching for the perfect venue for your wedding for two, check out these gorgeous backyard wedding venues in Michigan that are perfect for a smaller, more casual ceremony! As always, we would be delighted to help you find the perfect gown for your special day.