After you've said "I do", it's time to share the news! Let your family and friends know about your engagement with announcements to celebrate your important milestone. Here are a few engagement announcement ideas that your family is sure to love. No matter what your style, one of these ideas is sure to be a big hit.
Furry Friends
If you and your partner have a furry friend in your life, have some fun by adding them to your engagement announcement. We recommend something that doesn't require a lot of work on their part such as chalkboard sign. How cute is this pup with an engagement announcement sign?
Balloons Engagement Announcement
Save the date with cute balloons to announce your special milestone. If you don't have a specific date in mind just yet, add some other details such as a balloon with a ring on it. You could also add your names or the location where the event will take place.
Incorporate Hobbies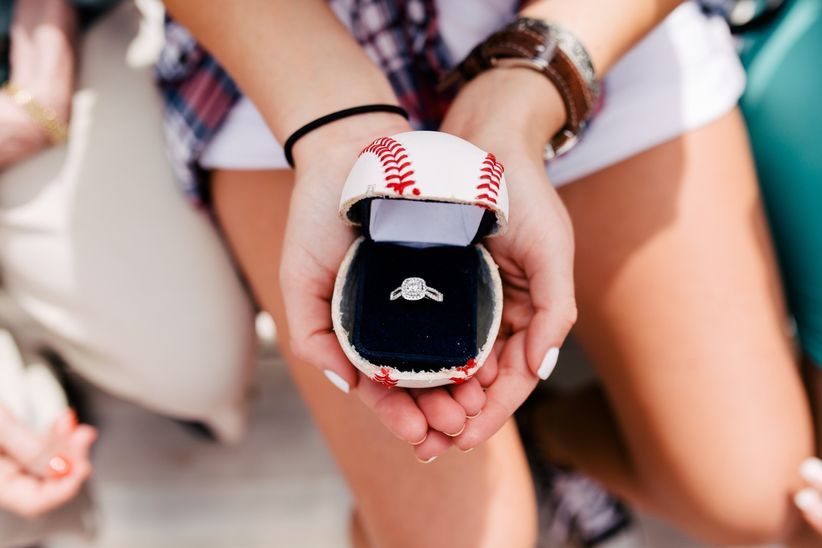 Is there something you and partner love doing as a couple such as going to baseballs games or trivia nights? Incorporate those fun hobbies into your engagement announcement by using a creative ring box and other details.
"She Said Yes"
Now that you've said yes, share the news with a fun "yes" sign to share with family and friends. Incorporate the sign into your photo however you'd like by making it front and center or a simple accessory.
Ring Photo Engagement Announcement
Once you announce your engagement, everyone will want to see your ring – so why not give them a sneak peek? Snap a close up photo of your ring and let it be the center of attention for your engagement announcement.
Unforgettable Location
If you are looking for a truly unforgettable engagement announcement, choose an epic location such as Horseshoe Bend in Arizona or somewhere you can easily travel to for some gorgeous photos. Mother Nature often makes the best backdrop for unforgettable moments like this.
After announcing your engagement, you will also want to begin planning your engagement party to celebrate your love. Check out some of our favorite engagement party invitations to send out to loved ones along with important details they'll need for the day! When you are ready to start looking for the wedding dress of your dreams, be sure to book an appointment with one of our bridal specialists!