A ring bearers' duties are perhaps some of the most important on your wedding day. Not only do they escort your rings down the aisle, they also add a sweet, personal touch to your ceremony. While the title is traditionally held by a young boy, people are getting more creative than ever with their ring bearers. Here are some of our favorite unique ring bearer ideas for your upcoming wedding.
Make a Superhero
As cute as little boys can be, sometimes they struggle with wearing a suit for long hours. Solve that problem, and add a cute moment, by adding in their favorite superhero underneath! This is also a fun surprise for your guests as he walks around showing them his hidden super powers. After all, what little boy doesn't have a favorite superhero?
Swap the Pillow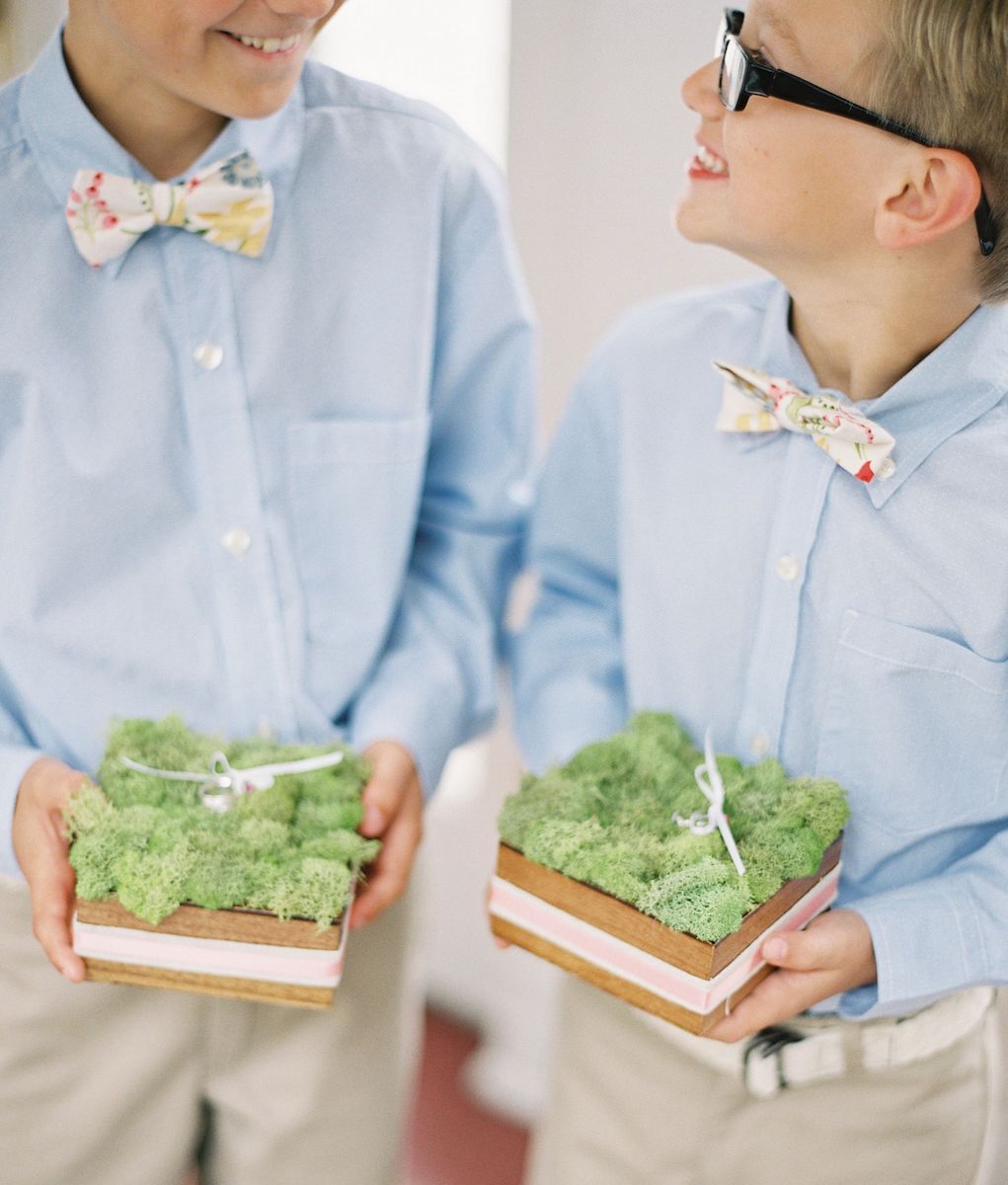 While traditional ceremonies have rings carried down the aisle on a pillow, it's okay to break with tradition! Swapping out the pillow is your chance to switch things up and add a unique flair for your ring bearers. You can also incorporate your wedding theme as well. For example, if your wedding is more rustic in an outdoor setting, these moss-covered boxes will fit the ambiance perfectly.
Add a Sign
Put your guests in a festive mood with a fun sign for your ring bearer to carry down the aisle. Whether you purchase the perfect sign or simply make one yourself, this is the perfect opportunity to add you and your partners' personalities to the ceremony. Feel free to get as creative as you'd like and decorate the sign to your liking. Don't be afraid to add a little humor as well – your guests will love it!
Bring a Furry Friend
Our pets are an important part of our lives, so why not get them involved with the wedding too? Your furry friend can make a perfect ring bearer if you don't have a young boy in the family to handle the duties. Tie the rings to their collar to ensure they don't fall off on the way down the aisle. You can even add a little extra fun with a decorative floral necklace or other accessories. Be sure to practice with your pet before the wedding so you have a chance to train them and get them comfortable.
Arrive in Style
What better way for your ring bearer to make an entrance than driving down the aisle in style? You can choose any type of tiny vehicle for him – just be sure it's small enough to fit down the aisle. It's also a great alternative if your little man is prone to running off or doesn't feel comfortable walking long distances yet. We recommend having him do a little practice driving before the big day so he feels comfortable behind the wheel!
Now that your ring bearer is all set up and looks adorable, what about your flower girl? Check out our tips and tricks for choosing the perfect flower girl dress for your big day! You might also want to book an appointment and let us help you choose the dress of your dreams.