Simple flower bouquets can be sophisticated and also affordable, which has made them even more popular in recent years. Whether you want something small to carry down the aisle or simple to pair with a dramatic dress, there's a variety of designs to compliment your theme. A small bouquet doesn't have to be boring, so here are five of our favorite simple flower bouquets for your wedding.
Single Stem
What could be more simple than a single flower? A single stemmed bouquet is a perfect option for the bride who wants something elegant and understated. Not only is a single stem more budget-friendly, but you can also choose whatever flower you'd like! Whether you love a simple rose, peonies or hydrangea, we recommend choosing a flower that fits with your wedding's color scheme to complete the look.
All White
An all white bouquet is both simple and classic. While white is the traditional wedding color, there are also several shades including blush, ivory, and cream. This gives you several different options when choosing your bouquet flowers as many come in those neutral shades. From a gorgeous arrangement of lilies to peonies in full bloom, you can even add some pops of green to bring out the vibrant whites.
Lavender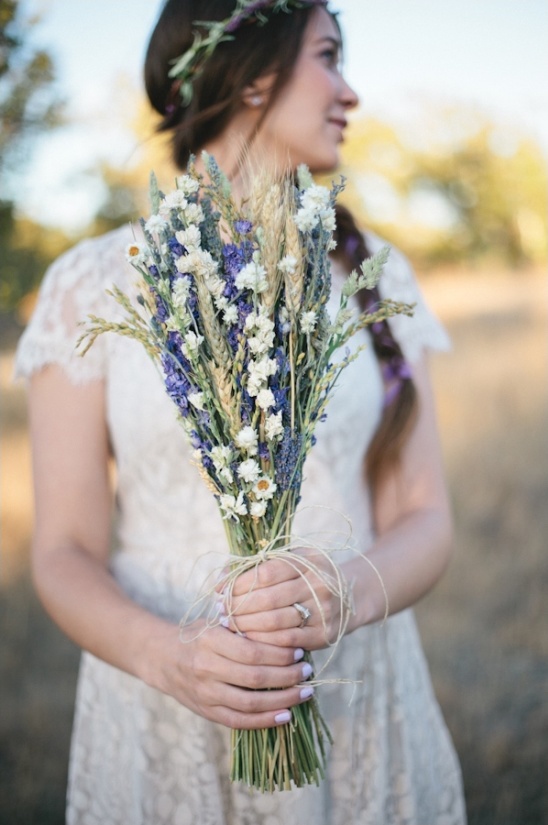 For brides who want a smaller bouquet with a pop of color, lavender is a great alternative to a large flower arrangement. And who doesn't love the smell of lavender? It flowers mostly in early spring and throughout summer, however, you can also get dried lavender all year long if your wedding date doesn't fall within its bloom. Add as much or as little as you'd like, then tie it off with a simple ribbon or string to complete the bouquet.
Go Green
When you can't decide on a flower, just go green! Add a timeless touch to your wedding look with a simple green bouquet full of your favorite foliage. You have a wide variety to options when creating a green bouquet, including eucalyptus, ferns, thistle and even an olive branch.  Don't want to go fully green? Add a simple flower or two, and tie it all together.
Hand-Tied
For a more DIY approach when designing your bouquet, try out a hand-tied style. Depending on the material and size, you can choose to cover the whole stem or leave it exposed. You can even get creative with a satin ribbon, simple twine and more. We recommend finishing your tie with some floral tape to keep your bouquet in one piece!
Are you ready to start designing your dream bouquet? Check out our guide for choosing a wedding bouquet to match your dress for a classic, completed look! If you love the look of these simple flower bouquets, you might also want to let us help you choose the dress of your dreams. If so, be sure to book an appointment today!