In the world of weddings, traditions may stand the test of time, but they are ever-evolving in the hands of creativity. As the centerpiece of reception elegance, wedding cakes have journeyed from classic white tiers to stunning designs and flavors that tell tales of couples' love and personalities. In 2024, wedding cake trends artfully merge the timeless with the contemporary, promising a visual and gastronomic feast for the senses.
Elegance in Simplicity: White Cakes with Floral Details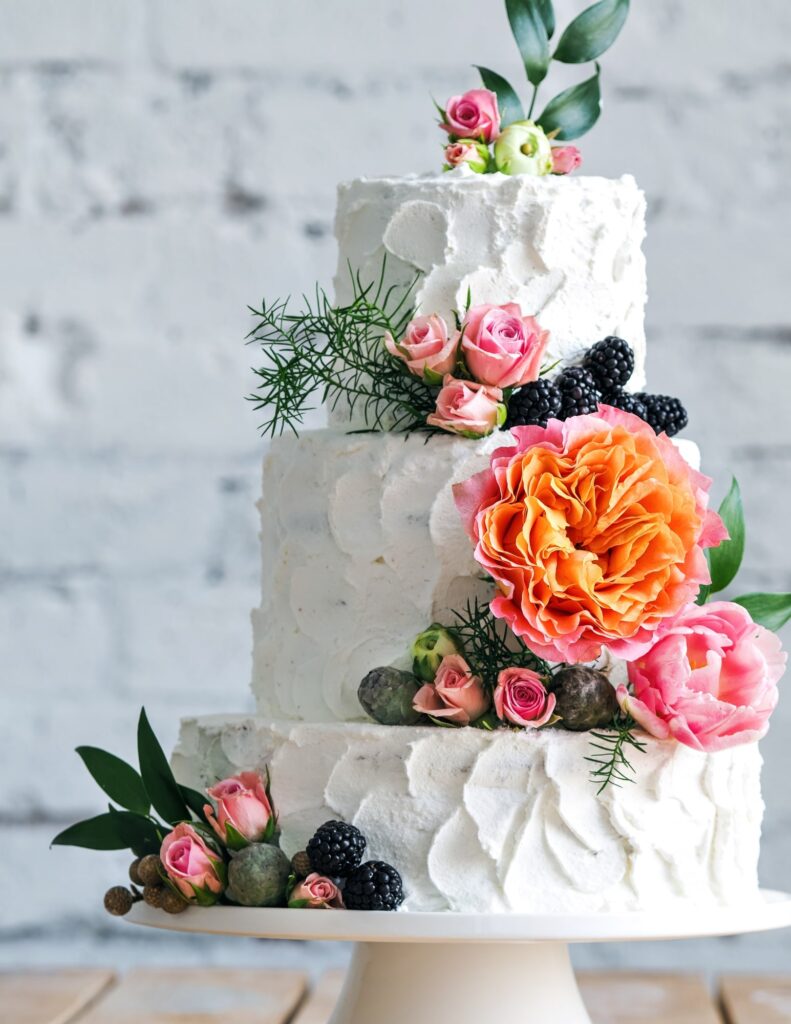 The allure of a simple white cake never truly fades. But this year, it's the intricate floral details that elevate this classic wedding cake idea. Whether adorned with delicate sugar petals, edible blooms, or cascading real flowers, these cakes embody a minimalist charm, drawing wedding-goers' eyes with understated elegance.
Textured Frosting: The Delight is in the Details
Gone are the days when frosting was just a smooth finish. This year's wedding cake inspiration is all about texture. Whether it's ruffled, ridged, or patterned in waves, textured frosting brings a tactile allure to cakes, making them as delightful to touch (and photograph) as they are to taste.
An Individual Treat: Mini Wedding Cakes
Personalization is a significant trend, and what's more personalized than giving each guest their very own cake? Mini wedding cakes, each exquisitely designed, offer a delightful surprise. They're not just a treat for the palate but also a unique wedding cake idea that adds a touch of intimacy to the celebration. You could also combine mini wedding cakes with finger foods for your reception—tiny food for every meal!
Hues of the Deep: Ocean-Inspired Colors
Inspired by the calming shades of the ocean, cakes in soft blues, teal swirls, and shimmering aqua have made a splash. These ocean-inspired colors not only bring tranquility to the wedding ambiance but also perfectly complement beach or coastal-themed weddings.
A Traditional Take: The Monochromatic Cake
Monochrome is making a statement. Instead of multiple colors, cakes drenched in a black and white are rising in popularity. With two striking colors, your cake is sure to turn heads and be the picture of elegance.
These wedding cake trends make it clear that, in 2024, cakes are more than just desserts; they're artistic expressions that blend trends with traditions. Whether it's through colors, sizes, or intricate details, these cakes don't just satiate your sweet cravings; they tell stories, evoke emotions, and add unforgettable charm to the big day.

Looking for more wedding day planning tips and inspiration? Follow The Wedding Shoppe on Pinterest!