This page may contain Amazon or other affiliate links.
Welcome to our Lovely Lobby Lounge, the heart of our luxury bridal shop experience at The Wedding Shoppe! Our lobby lounge has been designed to provide an enchanting and memorable wedding dress shopping experience to help you say YES with a glass of champagne in your hand! With big windows, elegant crystal chandeliers, and plush seating, our lobby lounge is a dream come true for brides-to-be.
Natural Lighting
One of the most captivating features of our lobby lounge is the large windows that allow ample natural light to pour in. This sunlight not only accentuates the beauty of our wedding gowns and accessories, but also creates a warm and inviting atmosphere, ensuring you feel relaxed and comfortable during your visit.
Crystal Chandeliers
Adding to the charm of our lobby lounge are the stunning crystal chandeliers that sparkle in the natural light. These chandeliers create a feeling of grandeur and sophistication, making your wedding dress shopping experience all the more special.
Luxurious Couches
The comfortable, luxurious couches in our lobby lounge provide the perfect seating area for you and your entourage. These plush seats offer a cozy space to discuss and admire the beautiful wedding dresses you try on, which makes your shopping experience even more delightful.
Featured Dresses
Our lobby lounge showcases a selection of our most exquisite wedding gowns, giving you a glimpse of the stunning designs and intricate details you can expect to find at The Wedding Shoppe. These featured dresses are sure to inspire and captivate as you embark on your journey to find the perfect wedding gown.
You'll also find a dress in the lounge for you to sign and date after you say YES to your dress—it's our way of bringing all our happy brides together!
Pop the Champagne
Thanks to our official liquor license through the State of Michigan, we can party in the lobby lounge! Join us 30 minutes before your appointment if you and your guests would like to have a toast to you and your dress shopping experience with a glass of champagne or wine. You can also commemorate saying "YES" to your dress after your appointment. It's your day and you deserve a celebration of a lifetime!
Greenery Accents
To complement the elegance of our lobby lounge, we've added natural greenery accents that bring a touch of freshness and serenity to the space. These lush plants and beautiful floral arrangements enhance the overall ambience, creating a tranquil environment for your wedding dress shopping experience.
In addition to these beautiful accents, there's also a gorgeous wall that many of our brides love to get a picture in front of for social media. You'll find a neon YES sign that will be perfect to include on your Instagram!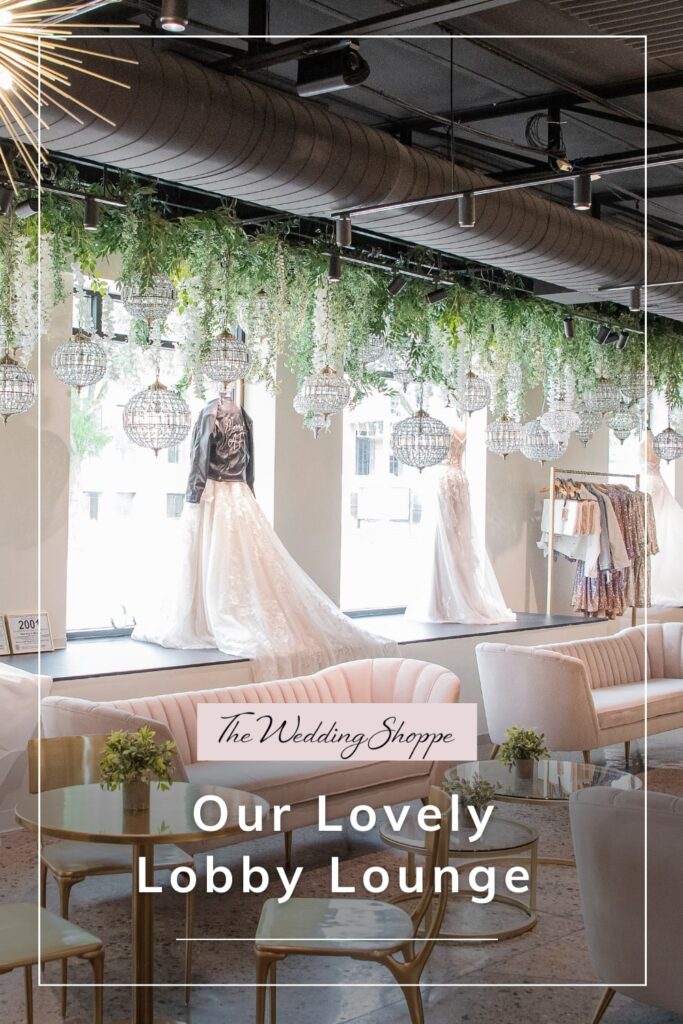 At The Wedding Shoppe, we're committed to providing you with a luxurious bridal shopping experience. Our store hours cater to your busy schedule, making it convenient for you to visit. We are open Monday and Friday from 11 am to 6 pm, Tuesday through Thursday from 11 am to 8 pm, Saturday from 10 am to 6 pm, and Sunday from 11 am to 3 pm. We can't wait to welcome you and help you find the perfect wedding dress!
The Wedding Shoppe's lovely lobby lounge sets the stage for a truly unforgettable wedding dress shopping experience. With its luxurious details and enchanting atmosphere, our lobby lounge is the perfect place to begin your journey towards finding the perfect gown. Come experience the magic for yourself!